180 total views, no views today
The EPA administrator is facing more than a dozen federal ethics investigations.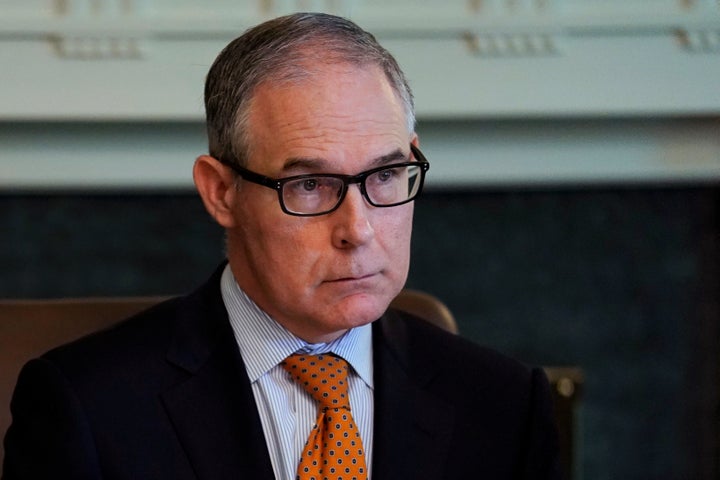 Multiple sources told CNN that Environmental Protection Agency chief Scott Pruitt asked President Donald Trump in the spring to fire Attorney General Jeff Sessions and put him in charge, the cable news outlet reported Tuesday.
According to the three sources familiar with the matter, Pruitt proposed to Trump that he would temporarily replace Sessions for 210 days under the Vacancies Reform Act and then return to Oklahoma to run for office.
CNN reported in April that this was an option Trump was already considering as his frustrations with Sessions mounted and his support for Pruitt remained steadfast, despite the 14 federal ethics investigations into the EPA administrator and an onslaught of scandals.
On Monday, it emerged that a former Pruitt aide told federal investigators that the EPA administrator had asked her to help his wife find a job paying her a salary of at least $200,000.
Pruitt's spending habits have also become a consistent source of inquiry. In late June, reports emerged that he had spent even more taxpayer money on security expenses than the millions previously disclosed, including tens of thousands on tactical clothing.
Other reports allege Pruitt sent his security team out on errands, including dry-cleaning trips and one to find his favorite luxury lotion from the Ritz-Carlton.
141 total views, no views today
By Ramsey Touchberry On 6/19/18 at 11:51 AM
More than 600 United Methodist clergy and church members want to bring formal church charges against Attorney General Jeff Sessions for the Justice Department's "zero tolerance" immigration policy, which has resulted in separating families who illegally cross the U.S.-Mexico border.
Sessions, a Sunday school teacher at the Ashland Place United Methodist Church in Mobile, Alabama, is accused by church members of child abuse, immorality, racial discrimination and "dissemination of doctrines contrary to the established standards of doctrines" of the United Methodist Church.
"While other individuals and areas of the federal government are implicated in each of these examples, Mr. Sessions—as a long-term United Methodist in a tremendously powerful, public position—is particularly accountable to us, his church," the letter read. "As his denomination, we have an ethical obligation to speak boldly when one of our members is engaged in causing significant harm in matters contrary to the Discipline on the global stage."  The Reverend David Wright, who organized the effort to charge Sessions, told Newsweek Tuesday that these types of charges against a member of their own denomination are "very, very rare."   "A week ago, I couldn't have imagined doing this," Wright said, adding that the hundreds of signatures they received were within just 24 hours.  The letter, signed by 639 United Methodist clergy and laity members, said the child abuse charge was for "[separating] thousands of young children from their parents [and] holding thousands of children in mass incarceration facilities." Over the course of a six-week period, nearly 2,000 minors—roughly 45 a day—were separated from their parents.
Keep up with this story and more by subscribing now
Members cited the immorality charge for "oppression of those seeking asylum" and cited racial discrimination for "attempting to criminalize Black Lives Matter and other racial justice activist groups," among other things.
Attorney General Jeff Sessions attends a news conference at the U.S.-Mexico border wall, near San Diego, on May 7. More than 600 United Methodist clergy and church members want to bring formal church charges against Sessions for the Justice Department's "zero tolerance" immigration policy. REUTERS/Mike Blake
The letter also cited Sessions's use of Romans 13 last week to defend the administration's policy of separating families and said it was in stark contrast to "supporting freedom of conscience and resistance to unjust laws." The United Methodist Church called the policy "antithetical to the teachings of Christ."
Wright said that the goal of the charges, which were sent to the attorney general's home church in Alabama, is not to force Sessions out of the congregation but rather to start a dialogue with him.
"[We're] hoping for a change in Mr. Sessions's heart," Wright said. "That he will not only step back and stop the things he's doing with his social and political power that are causing such significant harm but that he would then use his power to bring repair, bring healing and reunite families."
The Justice Department declined to comment for the story.
In early May, Sessions announced the Trump administration would begin separating parents and children at the border, a change from previous administrations' policies—including Trump's own that allowed families to remain together.
"If you are smuggling a child, then we will prosecute you, and that child will be separated from you, as required by law."  Sessions said on May 7. "If you don't like that, then don't smuggle children over our border."
Update: This story has been updated to include comment from Reverend David Wright and to show that the church later clarified that 639 members signed the letter, as one of the signatures was a duplicate.
Correction: The headline for this story has been corrected to more accurately reflect that it was members of the church who filed the charges rather than the church as a whole.
168 total views, no views today